The Fexco Group Legal Department has been counted amongst the best in the country having been named winner of the "In-House Legal Team of the Year" category at the AIB Private Banking Irish Law Awards 2017.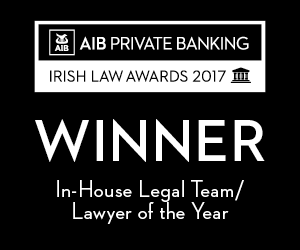 Previously Fexco Group Legal were successful at the Irish Law awards in 2014 in the International Transaction category, but this is the first time that the Group Legal Team have taken the overall In-House Legal Team prize.
Now in its sixth year, the Irish Law Awards are designed to celebrate excellence in the legal profession of Ireland, commending the achievements of lawyers and their teams. The awards, which took place on Friday 12 May at the Clayton Hotel in Dublin, aim to identify, honour, and publicise outstanding achievements, while also recognising those who have dedicated their lives to serving in the legal profession. These highly prestigious awards recognise the outstanding achievements and exemplary practices of the Irish business law community and offer a rare opportunity, particularly for in-house teams, to benchmark their performance in the Irish legal market.
Group Legal beat off stiff competition to claim the accolade triumphing over four other shortlisted legal teams including; VMware International Limited (with a legal team of over 600 lawyers worldwide!), Irish News and Media Group and the Chief State Solicitor's Office.
Recognition at the Irish Law Awards acknowledges the excellence of the Fexco Group Legal Department in its' provision of in-house legal services and pays tribute to Group Legal's reputation in its' continuous provision of effective and strategic legal advice to Fexco Group over the course of 2016.
There are a number of examples demonstrating the team's contribution to Fexco Group's strategic initiatives throughout 2016. Particular highlights include the successful acquisition of two UK-based bureau de change businesses as well as the acquisition of a property management business in the UK, adding to the Fexco portfolio.
Commenting on the win, Eleanor Daly General Counsel at Fexco said "I am absolutely thrilled that the work of the Fexco Group Legal team has been recognised at these prestigious awards. 2016 was an outstanding year for Group Legal and it has been a pleasure to bring such a wide variety of projects, all of which are of such strategic importance to the Group, to such a successful conclusion. I would like to thank the team for their continued efforts and hard-work and offer them my congratulations – it is testament to the single-minded focus on results of the Group Legal team that we took home the award this year."